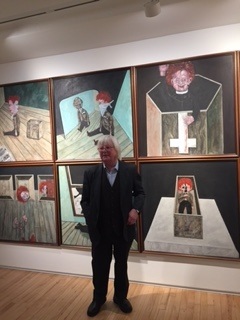 Jack Pakenham, RUA, is one of Ireland's most interesting artists. Much of his work reflects on 'The Troubles' here in Northern Ireland, and are often a very personal response to these events.
This exhibition 'A Broken Sky – Revisited' is effectively a visual social history of the last forty years in Northern Ireland, shining a light on the social and psychological issues, the politics, day to day life and of course the trauma that colour this period. Many of these pieces have not been seen in twenty or thirty years.
On March 21st 2020 at 2.30pm in Sea Holly there will be a special screening of a 40 minute documentary 'Return Journey' made by Paul Yates for BBC NI, which charts Pakenham's life and motivation behind this collection; followed by a question and answer opportunity with the artist. Entry to this event is free of charge.
More articles