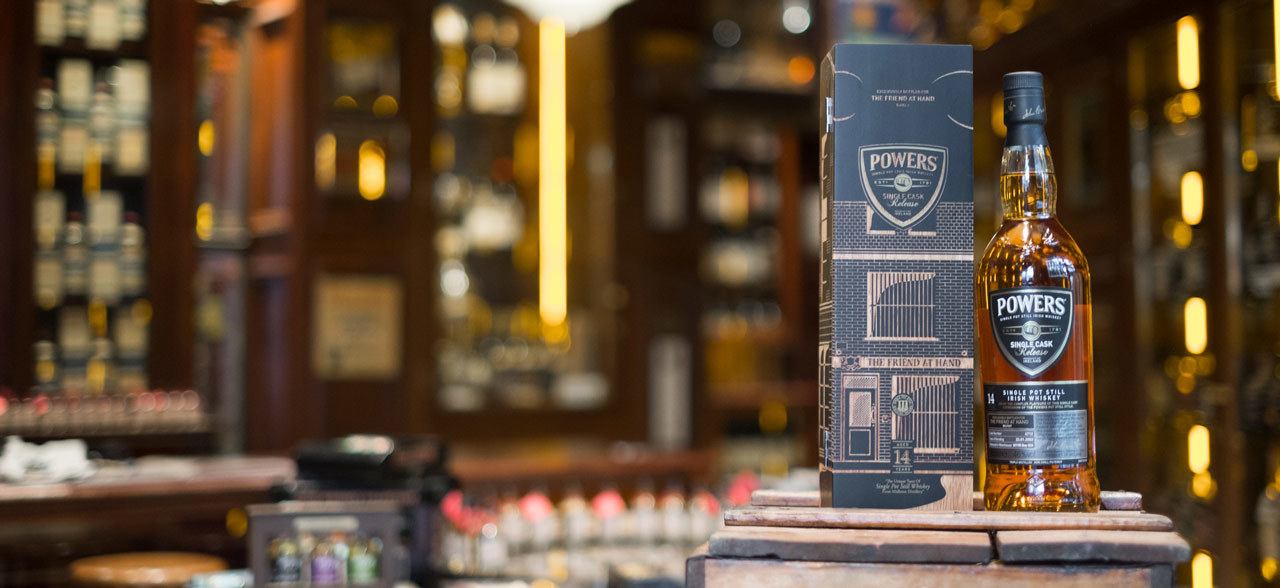 The Friend at Hand is proud to introduce an exciting new partnership with Powers Irish Whiskey, adding another rare release to our encyclopedic collection.
Aged for a minimum of 14 years, the extra time in the wood gives this Powers Single Cask Release an added maturity, subtlety and softness. The Friend at Hand Powers Single Cask Release retains the depth of flavour that is characteristically Powers, while revealing complex and layered, individual tasting notes.
Powers Single Cask Release #4712 Tasting Notes:
Nose: Defined by the Powers pot still spicy character, cracked black pepper and nutmeg are accompanied by herbal notes and liquorice with a distinct oak background of vanilla and toasted wood.
Taste: The initial burst of spices slowly fade to reveal the mouth coating texture typical of pot still whiskey, with the oak further developing over time. A light, crisp apple note adds to the subtle fruit undertones in the background.
Finish: The Pot Still spices linger with a slight coffee twist, finally giving way to grains of barley.
Presented in a beautiful bespoke wooden box, etched with the distinctive façade of The Friend at Hand, the inscription on the back of the box reads:
"Complex. Curious. Brave. Much like Belfast itself, this special Powers single cask release is a meeting of minds and strong characters. One of a kind. Never to be recreated. A true Friend at Hand."
Commenting on the release, Willie Jack of The Friend at Hand said:
"This is an exceptional 14-year-old Powers. The packaging and presentation, the story of Belfast and the liquid inside combine to make this a very special whiskey indeed. With the quality of the whiskey, the presentation and the venue that we will be selling it from, I am confident this will be sold out within a few months."
A limited-edition expression drawn from just one cask yielding 240 bottles, this Powers Single Cask Release has been selected and bottled exclusively for The Friend at Hand. Retailing at £175 per bottle, it is available exclusively at The Friend at Hand on Hill Street in Belfast.
"This release – and all of our whiskeys – are available only to those that purchase from our whiskey shop on Hill Street," says Willie Jack. "I am trying to bring people in to Belfast. We get phone calls all the time – often from whiskey collectors in Germany and elsewhere – asking us to ship bottles to them but our message is, 'we want Belfast to thrive.' I want people to come to Belfast, stay in our hotels, eat in our restaurants, drink in our bars, use our black taxis and to buy their whiskey here. It would be very easy to sell these special bottles online but I am trying to drive Belfast this way."
More articles