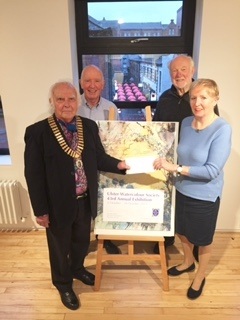 You don't have to think back too far to remember the Ulster Watercolour Society's exhibition here in October, a hugely successful and well supported show. Over the two weeks the Society sold raffle tickets and catalogs, and all proceeds were to be donated to The Jill Todd Trust.
Jill Todd was a bright and vivacious young County Down woman and extraordinarily talented young photographer who sadly lost her life to bowel cancer aged just 23. Her friends and family established the Trust to:
– Raise funds to assist research into finding a cure for cancer.

– Promote the art of photography

– Promote early careers in photography.
Jill's father, Barrie Todd, was the architect behind the design and creation of the gallery, and the name Sea Holly came about as a tribute to Jill – one of her very early photographic projects had been around the Sea Holly plant, the delicate yet resilient little plant often found growing in sand dunes.
We were delighted to welcome Jeff Monaghan (secretary) and Les Jones (President) of the UWS back to Sea Holly to present Barrie and Patricia Todd with the money they raised – an incredible £1000.
Huge thanks to all who made this possible, the society's members and volunteers, the visitors and supporters.
More information on The Jill Todd Trust can be found at www.jiltoddtrust.com
More articles